Kosovo-Serbia row leaves Nato peacekeepers under attack
Despite the boycott, Kosovo's international allies had supported the elections. But they changed their tune when it became clear that the new mayors had no mandate to speak of.
Behind the scenes, they urged Kosovo's authorities to tread carefully, to avoid stoking tensions in the north.
Their advice fell on deaf ears. Last Friday, armed special police forced their way into municipal buildings in three of the towns, so the new mayors could take office in person. They also removed Serbian flags and replaced them with Kosovo's gold-and-blue standard.
It prompted a furious response from Kosovo's staunchest supporters.
The EU and Nato urged Mr Kurti to step back from a clearly provocative position. But the sternest statement of all came from US Secretary of State Antony Blinken.
He said the US "strongly condemns the actions by the government of Kosovo", which had "sharply and unnecessarily escalated tensions, undermining our efforts to help normalise relations between Kosovo and Serbia". He warned there would be "consequences for our bilateral relations with Kosovo".
But this rebuke had little impact on Mr Kurti, who ignored the calls to de-escalate and blithely stated that Kosovo still enjoyed international support as tensions simmered over the weekend.
Meanwhile, in Serbia, Mr Vucic was ordering troops to the border with Kosovo. It was little more than sabre-rattling, as Serbia has no appetite for interfacing with the 4,000 Nato troops who guarantee the peace in Kosovo.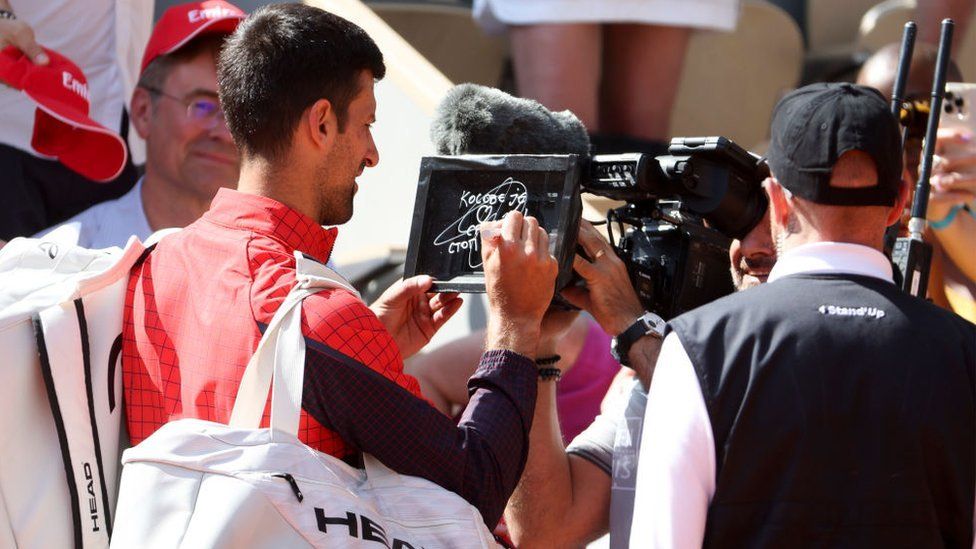 The same sentiment does not, apparently, apply to the people who were filmed attacking Italian and Hungarian peacekeepers in Zvecan.
Locals insist they were sitting on the ground in a peaceful protest. So that raises questions about who the muscular, baton-wielding men setting about KFOR and Kosovo Police personnel were representing.
Tensions have now eased somewhat, as the mayors have agreed not to go back to their offices for the time being.
But emotions are still running high, illustrated by Serbian tennis star Novak Djokovic's response to the situation at the French Open tennis championships.
After winning his first-round match, he wrote a message on the glass in front of a courtside camera. "Kosovo is the heart of Serbia," it read. "Stop the violence."
But until Kosovo and Serbia can reach focus on co-operation rather than recriminations, tensions are unlikely to be far from the surface.